What Family do you think of when you think SoCal Wrestling?  Scorpio Sky is going to join me on www.talknwa.com this week.  Come see the Excellence of Execution at the World Famous Frank & Sons.  EWF is going to be Mega Crazy Friday night and the rest of the shows this weekend.
First Family of Wrestling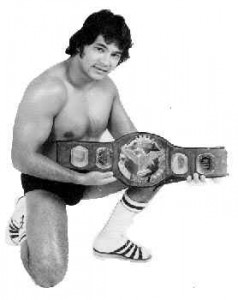 Whenever someone mentions Texas Wrestling, I think the Von Erichs or the Funks. Oklahoma, reminds me of the Briscoes. Florida Wrestling, I think of the Grahams. What about SoCal? The Young Bucks? The Cutlers? What about the Guerreros? Besides the legends of Chavo Sr., Hector, and Mondo from the mid 70s to the early 80s, or Eddie teaming with Art Barr at "When Worlds Collide" or all the time Eddie and Chavo Jr. worked in WCW & WWE appearing in SoCal. I almost forgot a few years ago when Chavo Sr. won the Empire Wrestling Federation Championship. And as of late Chavo Jr. has become somewhat of a regular in SoCal competing in the Territory League, Vendetta Pro, El Pappy, and up-coming in Hollywood.
Talk NWA
Scorpio Boom Bah Yea, Scorpio Boom Bah Yea, the chant, the cheer, the moment I'll never forget.  Sure there wasn't more than a hundred people there to hear it.  It was the day I knew Sky would be a star in the business.  Since then Sky has been a major player in Pro Wrestling Guerrilla, Wrestling Society X, under a mask for Lucha Va Voom, but is the highlight of the night each and every time he's showcased in NWA Hollywood on KDOC-TV.  Sky had two consecutive over the wildly popular Nick Madrid last month.  And this month is set to face off against multi-time WCW/WWE Cruiser-weight Champion Chavo Guerrero Jr. at the big NWA Hollywood & El Pappy Event on June 10th.  We'll talk to Sky this Saturday about this huge match up for the Experience, the perils of being the Man in Hollywood, and his journey in wrestling.  If you'd like to join us the telephone number is (646) 478-3019.
FRANK & SONS: Bret "The Hitman Hart"
Todd from the Message Board has done a great job updating us on the going-ons of Frank & Sons.  If you have ever wanted to get your photo taken with Bret Hart, this is the weekend to do it.  June 2nd.
The Mega King vs. SoCal Crazy
What is it about these two that bring out the best in each other.  Crazy and Wilson really work well together.  Their one-on-one matches in SoCal Pro Wrestling have always been really entertaining.  I'm am positive that in a Street Fight… the fans in Covina are going to be happy with their main event.
Upcoming Schedule:
Empire Wrestling Federation
Friday June 1st 2012 • 8:00PM
Knights of Columbus Hall
4315 N. Vincent Ave., Covina
Tickets: $11, $5 for Kids
Featuring: Street Fight Mega King vs. SoCal Crazy
Knokx Pro III
Saturday June 2nd 2012 • 3:00PM
The Domain
11108 Tuxford St., Sun Valley,
Tickets: FREE
Featuring: Black Pearl, Rikishi, Gangrel, TMD, Parker Greaves, and more
SoCal Pro Wrestling FREE
Saturday June 2nd 2012 • 7:00PM
Escondido Sport & Fitness Center
130 E. Lincoln Ave., Escondido
Tickets: FREE
Featuring: SoCal Crazy vs. Trash
MWF: Lucha Spectacular in "Revancha"
Saturday June 2nd 2012 • 8:00PM
East Los Angeles Community Youth Center
4401 Cesar Chavez Ave., Los Angeles
Tickets: $10, $3 for Kids
Featuring: Kiss Jr., Kiss III, & Rey Lee vs. Punisher, Super Maquina Jr. & Hades
—————————————
Remember you can follow us on Twitter @SoCalUNCENSORED and like us on Facebook.com/socaluncensored