AWS Tomorrow 5/29 @ 2 p.m.
---
Tomorrow is the the Alternative Wrestling Shop's next BIG live event! Belltime is 2:00 p.m. with doors opening at 1:30 p.m.

There have been a few changes made on the card as follows:

Kenny King will be unable to appear.

Due to his NEW contractual obligations to the WWE... Hardkore Kidd will be unable to wrestle, & defend the AWS Tag Team Championships. Al Katrazz will have a suitable "replacement" partner,as the titles will STILL be on the line against the X-Foundation: Scott Lost & Joey Ryan. Hopefully Hardkore Kidd will still show up & have a few words for everyone... one LAST time in AWS. We wish him all of the best in his endeavors with the WWE. It's about time he made the "big time". Good luck HKK!

We will have MORE news soon... as someone else in AWS will be leaving for the WWE in the next few months.

Also appearing on tomorrows show will be Angel, Nikki, Sara Del Ray... & Supreme/Kaos will be in the house. What exactly is their agenda... as they do not have opponents & are NOT scheduled to wrestle ? We will find out tomorrow along with everyone else.

~Main Event~
Sonjay Dutt vs. Super Dragon

~AWS Heavyweight Title Match~
Big Babi Slymm vs. Adam Pearce

~Lucha Libre 2 out of 3 falls Match!
Super Boy, Zokre, Phoenix Star, & Capitan Oro
vs.
Piloto Suicida, Principe Unlimitad, Chilango, & Durango Kid

~Light Heavyweight Title Match~
Lil' Cholo vs. Scorpio Sky


AWC, King Jakal, & Black Metal
vs.
Disco Machine, Chris Bosh, & Ronin


~Rematch~
Rising Son vs. Human Tornado

Tomorrow at 2:00 p.m.

Tickets available at the Door- $15.00 for adults & $12.00 for kids 12 years & under.

As usual at The Frank And Son Collectible Show Arena. 19649 E. San Jose Ave. in City Of Industry.
__________________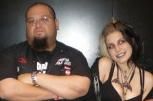 "Dissolution does but give birth to fresh modes of orginization, & one death is the parent of a thousand lives. In your height of hope, remain ever sober, & in your depth of desolation, never despair."